Skip to Content
Landscape Installation Services in Fort Collins, CO
Residential & Commercial Landscape Design
Zak George Landscaping is the perfect choice when it comes to finding a dependable and cost-effective landscaping company in Fort Collins, CO. Our extensive range of residential and commercial landscaping services is delivered by a team of highly skilled professionals who are committed to delivering exceptional results.
Regardless of your requirements, we have the expertise to create and install a customized landscape that aligns with your individual preferences and financial considerations. Our expert landscaping teams provide regular maintenance services to ensure your landscape remains pristine throughout the year. If you seek a trustworthy, affordable, and expert landscaping company, don't hesitate to reach out to Zak George Landscaping today.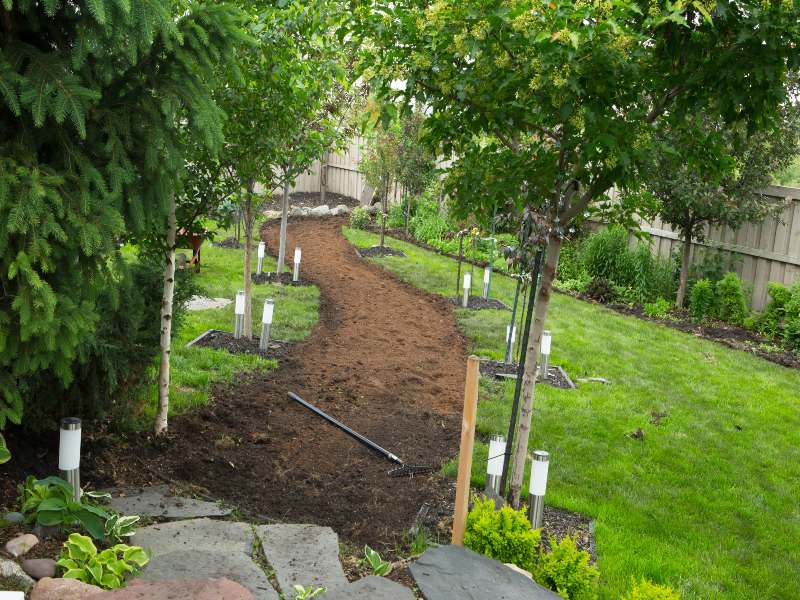 What Is Landscape Installation?
Landscape installation involves the process of transforming an outdoor space by designing and implementing various elements to create a visually appealing and functional environment. It encompasses a wide range of activities, including site preparation, plant selection and placement, hardscaping installations (such as pathways, patios, and retaining walls), installation of irrigation systems, and adding decorative features like lighting or water features. The goal of landscape installation is to bring the envisioned design to life, incorporating elements that enhance the natural beauty of the surroundings while meeting the needs and preferences of the property owner.
At Zak George Landscaping, our landscape installation services involve a meticulous approach to transforming outdoor spaces into stunning landscapes. Our team of professionals begins by conducting a thorough assessment of the site, carefully considering factors such as soil conditions, drainage, sunlight exposure, and existing vegetation. We believe in close collaboration with our clients, actively listening to their vision and preferences to ensure that the final design harmonizes seamlessly with the architecture and style of the property.
The Landscape Installation Process
At Zak George Landscaping, we take pride in every step of the landscape installation process. You can expect professionalism throughout our job. Our process includes the following:
Site Assessment
Our experienced team thoroughly assesses the site, considering factors such as soil conditions, drainage, sunlight exposure, and existing vegetation.
Client Collaboration
We work closely with our clients to understand their vision, preferences, and desired outcomes, incorporating design elements that complement the property's architecture and style.
Plant Selection and Arrangement
Our skilled landscapers utilize their expertise to select and arrange plants based on growth habits, colors, textures, and seasonal interest, ensuring a visually appealing and sustainable landscape.
Hardscaping Installation
We install hardscaping features such as pathways, patios, and retaining walls, providing structure, functionality, and aesthetic appeal to the outdoor space.
Design Integration
By combining design principles, horticulture knowledge, and construction techniques, we seamlessly integrate all elements to create a cohesive and captivating landscape.
Sustainable Practices
We prioritize sustainability by implementing proper irrigation systems, selecting native and low-maintenance plants, and utilizing environmentally friendly materials.
Quality Assurance
Our team ensures the highest quality standards throughout the installation process, paying attention to detail and executing the design precisely.
Long-Term Enjoyment
We strive to create landscapes that can be enjoyed for years to come, considering factors such as plant growth and maintenance requirements to ensure long-term beauty and functionality.
Why Choose Us?
Zak George Landscaping is a reputable provider of top-notch residential landscaping services tailored to the homeowners of Fort Collins, CO. As a locally owned and operated business, we take great pride in our craftsmanship and unwavering commitment to customer satisfaction. Our goal is to give each client the personalized attention they deserve, ensuring their landscaping dreams become a reality.
Recognizing the uniqueness of every residential landscaping project, we collaborate closely with homeowners to develop a customized plan that precisely aligns with their specific requirements. From concept to completion, our team works diligently to deliver exceptional results that exceed expectations.
Contact Us Today
In addition to our comprehensive landscaping services, we offer lawn aeration to maintain the beauty and vitality of your landscape throughout the year. Our range of services includes mowing, edging, trimming, and efficient leaf and debris removal during the autumn season. Call us today to schedule your professional landscaping installation service. We proudly work with residential and commercial clients throughout Fort Collins, CO.
Contact Us Today for a Landscaping Estimate