Skip to Content
Professional Snow & Ice Management
Professional Snow & Ice Management Services in Fort Collins, CO
Those in the Front Range are no strangers to cold rain and snow. While the Fort Collins, CO region is known for its beauty, the snow and ice in the area can be challenging to live with and manage. Zak George Landscaping offers professional snow and ice management services for home and business owners. Snow can fall at any time, causing potential safety hazards for your family, employees, or customers. You can count on our experienced snow management team to make your property's roads and sidewalks safer. We offer snow removal and ice management services for clients year-round. Get in touch with our team today to get your estimate for service.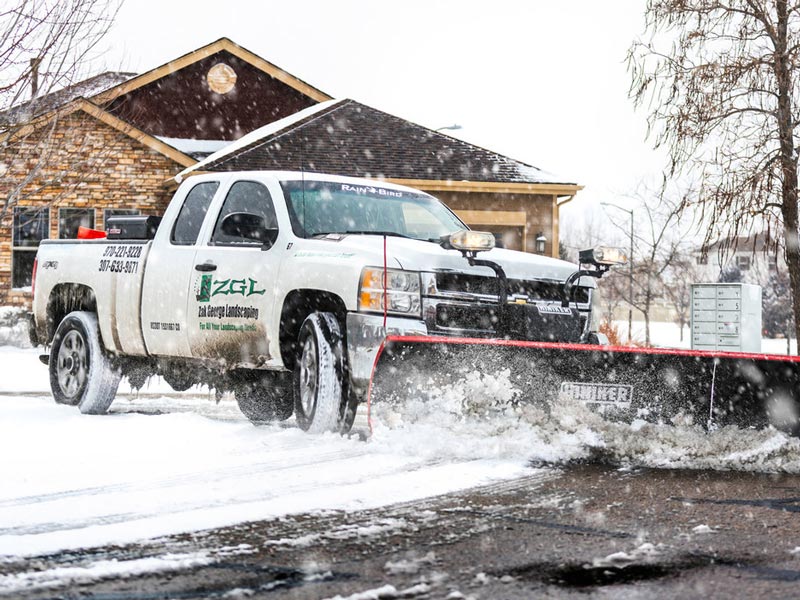 Commercial Snow & Ice Removal in Colorado & Wyoming
Reduce your liability by removing ice from your property. The last thing you want is an employee or customer slipping and falling. Allow us to remove snow and ice from your property on a regular basis to keep it beautiful and safe. We serve local businesses and large commercial facilities, including homeowner's associations (HOAs), apartment complexes, multi-unit facilities, senior living facilities, shopping centers, hospitals, municipalities, and more. Don't let the snow slow your business down. We'd be happy to create a customized plan to keep your commercial property clean, safe, and beautiful. Your customers and employees will thank you!
Removing Snow & Ice From Your Home
Shoveling snow is hard work. Many homeowners physically cannot, don't have time to, or simply don't want to perform this arduous task. Balancing work and family obligations leave many of us exhausted at the end of the day, and the last thing you want to be doing is shoveling snow or trying to remove ice. Our professional snow and ice management services can make your life easier and your property safer. Don't allow yourself to become snowed in or open yourself up to a family member or neighbor slipping and falling on your sidewalk. Snow is best enjoyed atop nearby mountains and not piling up on your driveway or front lawn.
Comprehensive Landscaping Services
The team at Zak George Landscaping offers a lot more than snow and ice management services. You can count on us for all your residential landscaping or commercial landscaping needs throughout Northern Colorado and Southern Wyoming. Allow us to design and install beautiful landscaping for your home or business. We can create the ideal outdoor environment for any lifestyle or operation. Our team excels at new builds and renovations. Once we install your perfect landscaping, we're also here to maintain it with custom packages to keep your home or business safe and looking great. Contact our experienced team today to get started with your snow and ice management estimate.
Contact Us Today for a Landscaping Estimate