Skip to Content
Sod Installation Services in Fort Collins, CO
Professional Landscaping & Sod Services
At Zak George Landscaping, we offer top-notch sod installation services to enhance the beauty and functionality of your outdoor space. Sod, also known as turf, refers to pre-grown grass that is cultivated and nurtured by experts before being carefully transplanted onto your lawn. It provides an instant and lush green carpet, transforming your landscape into a vibrant and inviting environment.
Benefits of Sod
There are seemingly endless benefits of installing sod on your property. They include: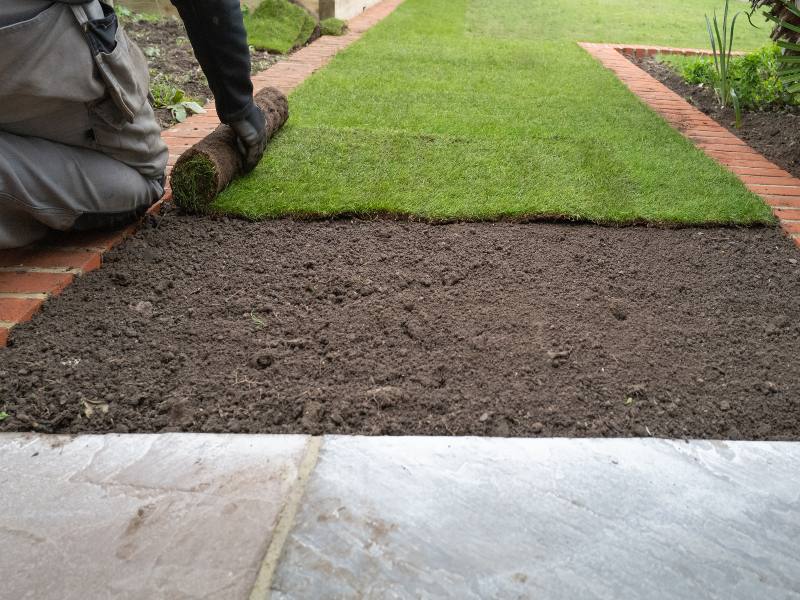 Immediate Results
One of the key advantages of sod installation is the instant transformation it brings to your lawn. With sod, you can enjoy a fully established and healthy lawn almost instantly without having to wait for seeds to germinate and grow.
Enhanced Curb Appeal
Sod creates an immediate visual impact, significantly improving the overall appearance of your property. It adds a fresh and vibrant look, making your lawn the envy of the neighborhood.
Erosion Control
Sod acts as a natural erosion control solution, preventing soil erosion and promoting stability in sloped areas. It helps retain moisture and minimizes the risk of runoff during heavy rainfall.
Weed Suppression
Sod provides dense coverage, leaving little room for weeds to establish and compete with the grass. It acts as a natural weed barrier, reducing the need for herbicides and manual weed control.
Increased Property Value
A well-maintained lawn with professionally installed sod can significantly enhance the value of your property. It creates an inviting outdoor space and leaves a positive impression on potential buyers or visitors.
Why Zack George Landscaping?
At Zak George Landscaping, we pride ourselves on our responsive and reliable customer service. We understand that your landscaping needs are unique, and we work closely with you to understand your vision and create a customized plan that meets your specific needs. Here are some reasons why you may want to consider us over our competitors:
Responsive and Reliable Customer Service:
We are always available to answer your questions and address any concerns you may have. Our team is dedicated to providing the highest level of customer service, and we are committed to exceeding your expectations. We are fully licensed, insured, and bonded, so you can trust that your property is in good hands. We stay current on the latest industry trends and techniques to ensure that we always provide the best possible service. We are happy to provide references upon request, so you can see our work's quality and customer satisfaction firsthand.
High-Quality Workmanship:
Our team is made up of skilled and experienced professionals who are dedicated to providing high-quality workmanship. We use only the best quality materials and equipment to ensure that your landscaping project is completed to the highest standards. We have a strict quality control process in place to ensure that every aspect of your project meets our standards for excellence. We take great pride in our work and are committed to delivering results that you will love for years to come. We provide a detailed project estimate and timeline so you know exactly what to expect and when to expect it.
Contact Our Team
If you're in need of expert sod installation services in Fort Collins, look no further than Zak George Landscaping. Our team of skilled professionals has extensive experience in sod installation, ensuring flawless and long-lasting results. We take pride in delivering exceptional customer service and strive to exceed your expectations. Contact us for more information.
Contact Us Today for a Landscaping Estimate