Skip to Content
Fort Collins Commercial Landscape Design and Installation
Commercial Landscaping Design in Fort Collins, Co
When it comes to commercial landscape design and installation, it's important to have a partner that you can trust to deliver beautiful, functional, and sustainable outdoor spaces. That's where Zak George Landscaping comes in. With many years of experience in the industry, we have the expertise and skills to bring your commercial landscaping vision to life. Whether you're looking to create a welcoming entrance for your office building, a serene outdoor space for your employees to enjoy, or a functional outdoor area to boost your business' bottom line, we can help.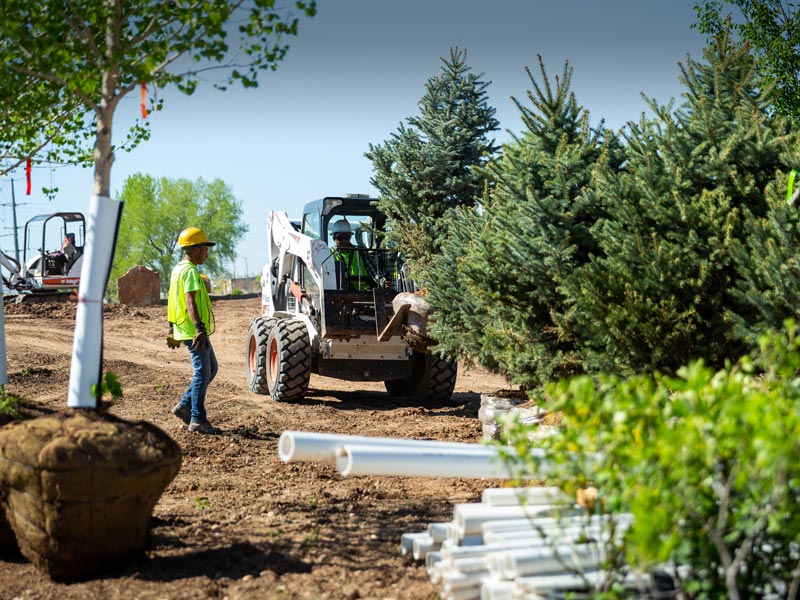 Commercial Landscape and Design Installation
Commercial landscape design and installation is the process of creating and implementing a landscaping plan for commercial properties, such as office buildings, retail centers, hotels, and other types of businesses. This process involves assessing the property's existing landscape, identifying areas that need improvement, and creating a design that incorporates elements such as plants, hardscaping, lighting, and water features. Once the design is complete, the installation process begins, which includes the planting of trees and shrubs, the installation of hardscaping elements such as pavers and retaining walls, and the implementation of irrigation and lighting systems.
What Are the Services Offered by Zak George Landscaping?
At Zak George Landscaping, we offer a wide range of services to help commercial property owners create and maintain a beautiful and sustainable landscape. Some of our services include:
Site Analysis and Planning: Before we begin any commercial landscaping project, we conduct a thorough site analysis to determine the best course of action. This includes assessing the current landscape, analyzing soil and drainage, and identifying any potential challenges or opportunities. Once we have a clear understanding of the site, we develop a detailed plan that outlines the proposed design, materials, and installation schedule.

Maintenance and Care: A well-maintained landscape not only looks great but also increases the value of your property. Zak George Landscaping offers ongoing maintenance services to keep your commercial landscape looking its best. We will handle all aspects of maintaining your landscape, including mowing, pruning, fertilizing, and pest control.

Installation and Construction: Our team of skilled and experienced landscapers will handle all aspects of the installation and construction process, from excavation and grading to planting, mulching, and installing hardscaping features. We use only the highest-quality materials and employ best practices for installation to ensure that your new commercial landscape will last for years to come.

Design and Consultation: Our team of experienced landscape designers will work closely with you to create a custom landscape design that meets your specific needs and budget. We will take into account the unique features of your property, as well as your aesthetic preferences and goals for the space. We will also provide expert consultation on all aspects of the design, from selecting the right plants and materials to determining the most efficient irrigation and lighting systems.

Irrigation and Drainage: Proper irrigation and drainage are essential for the health and longevity of your commercial landscape. We offer a range of irrigation and drainage solutions to ensure that your plants receive the right amount of water, without wasting resources or causing damage to your property. Our team will design, install, and maintain an irrigation system that meets the specific needs of your landscape.

Emergency Services: We offer emergency services 24/7 to ensure that your commercial property is protected and secured during unforeseen events such as storm damage and fallen trees.

Hardscaping: Our team of experts can design and install hardscaping features such as retaining walls, patios, walkways, and driveways that complement the natural elements of your landscape. We use only the highest-quality materials and employ best practices for installation to ensure that your new commercial hardscaping will last for years to come.
Snow and Ice Removal: We understand the importance of keeping your commercial property safe and accessible during the winter months, and we are fully equipped and ready to handle all aspects of snow and ice removal, including plowing, shoveling, and deicing. We work quickly and efficiently to ensure that your property is cleared of snow and ice as soon as possible so that your customers and employees can move around safely.
Lighting and Electrical: Lighting is a key element in any commercial landscape design, that's why we offer a wide range of lighting options, from simple path lights to more elaborate lighting systems that highlight key features of your landscape. We also offer electrical services such as installing outlets and powering up water features.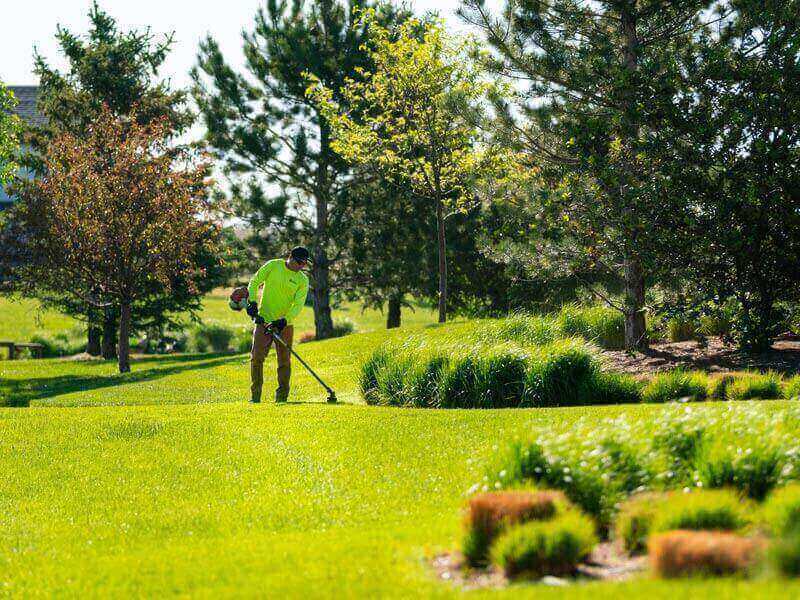 Why Is Commercial Landscape Design & Installation Important?
A well-designed and well-maintained landscape can have a significant impact on a commercial property. A beautiful landscape can enhance the property's curb appeal, which can attract customers and improve the property's overall value. A landscape that is well-designed and well-maintained can also improve the property's energy efficiency by providing shade, reducing the need for air conditioning, and reducing the heat island effect. Additionally, a landscape that is designed with sustainable practices in mind can help reduce water usage and improve the overall health of the environment.
Contact Us for Commercial Landscape and Design Installation
Transform your commercial property into a lush, inviting oasis with the expert services of Zak George Landscaping. Contact us today to schedule a consultation and bring your landscape design dreams to life. Let's make your Fort Collins property stand out and leave a lasting impression on all who visit!
Contact Us Today for a Landscaping Estimate