Skip to Content
Beautify Your Lawn With Rock Mulching in Fort Collins, Co
Zak George Landscaping Offers Rock Mulching Services
Since 2005, Zak George Landscaping has provided rock mulching services for homes and businesses throughout Fort Collins, Colorado, and Larimer County. We have a team of landscape designers that will accentuate the features of your property using rock mulch and accents. Whether you already have a vision for your landscape or you need help being inspired, our professionals have the experience and knowledge to guide you through the entire process. We have the materials, equipment, and team to complete any size landscaping project. We know the presentation of your home is essential, which is why our goal is always to ensure you're entirely satisfied with our services. Contact us today to schedule your landscaping design consultation.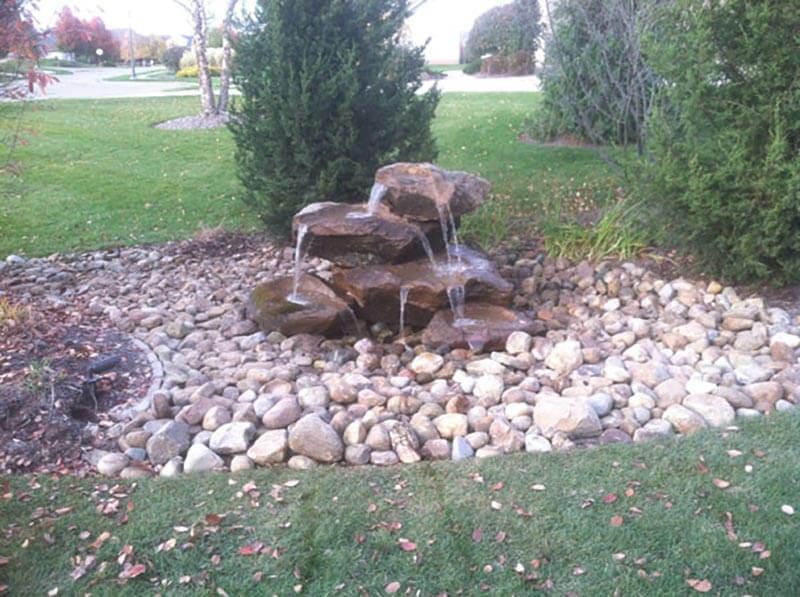 What Are the Benefits of Rock Mulch?
Rock mulch is a popular landscaping material used to create gorgeous landscapes in low-water gardens. There are numerous benefits to choosing rock mulch over traditional mulch. The landscaping professionals at Zak George Landscape have experience using rock mulch to highlight the beauty of your lawn. Rock mulch is used very similarly to traditional bark mulch. However, there are numerous distinct differences, including:
Low Maintenance – Because rocks don't break down like bark mulch, there is no need to replenish it every year. Bark mulch also tends to retain moisture, leading to mold and fungi growth in your flow beds. Rock mulch doesn't retain moisture and prevents fungi growth.
Customization – At Zak George Landscaping, we have a wide selection of rock mulch available to suit your needs. There are a variety of sizes, colors, and styles of rock mulch you can choose from. Our selection includes pea gravel, river rock, quartz gravel, lava rock, granite, and more.
Better Drainage – One of the most significant benefits of choosing rock mulch over bark mulch is that it provides better drainage. If your yard is left with puddles after a storm, rock mulch may be a better option because it offers better drainage.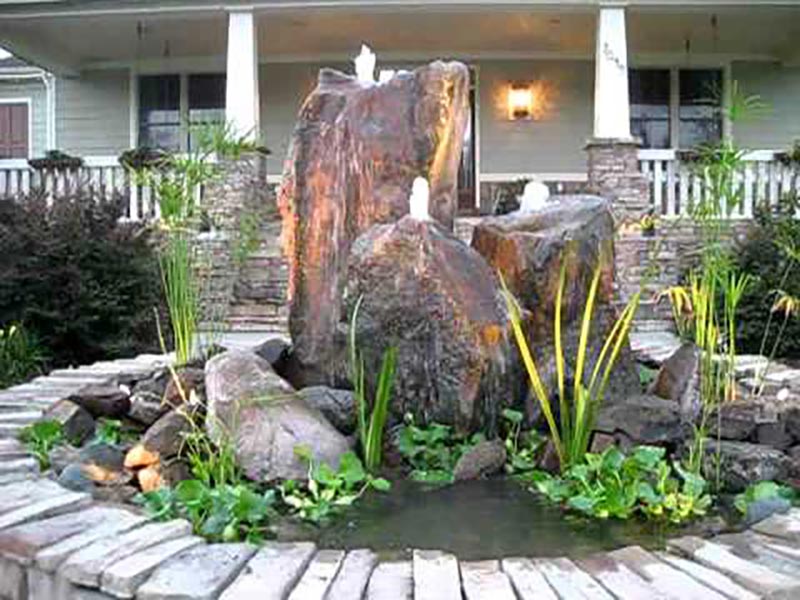 Where Should I Lay Rock Mulch?
When we begin your landscaping design consultation, we'll identify your landscaping goals and utilize the proper materials to achieve them. Rock mulch is a versatile landscaping material. Our professionals utilize it in numerous ways. Rock mulch can be used around the perimeter of your property to encourage proper drainage away from the foundation. We also use rock mulch to accentuate walking paths. Finally, it can be used for flower beds that contain plants that don't require a lot of water to thrive. Whatever you're hoping to achieve, our professionals will ensure your lawn thrives.
Rock Mulch Maintenance Solutions
While rock mulch is considered a low-maintenance mulching alternative to bark mulch, there are a few ways you can ensure it looks fantastic for years. At Zak George Landscaping, we provide rock mulch cleaning and weeding services. Our maintenance solutions are completed by a trained professional using the proper equipment and techniques. You shouldn't have to spend your weekends or vacation maintaining your rock mulch. Instead, choose the local professionals for assistance. Our rock mulch maintenance services include:
Rock Cleaning – As dirt and dust settle on your rock mulch, it may begin to look dingy and unkempt. Our team can reinvigorate your rock mulch with a comprehensive process that will improve the look of your lawn.
Weeding – Rock mulch is packed more loosely than bark mulch so that weeds can grow more freely. Our crews offer weeding services to improve the look of your garden beds and lawn. We'll remove the weed at the root to prevent it from growing back. If the weeds are beginning to overwhelm the area, we can replace the landscaping fabric to restore your garden to its former beauty.
Additional Rock Landscaping Services
As the area's premier landscaping company, our team offers a wide range of residential and commercial landscaping services. Landscaping rocks can be used to create dynamic garden features. However, some property owners may prefer a yard that is more subdued. Whatever your landscaping needs are, you can count on our professional team to deliver exceptional results. Our landscaping rock services include:
Rock Work Installation – If you want to define an exterior entryway or path on your property, we may suggest landscaping rocks. You can also use landscaping rocks to create accents in your gardens. Our landscape designs can help you use landscape rocks effectively.
Rock Work Removal – When it's time to update your home's landscaping, landscape rocks may not be part of your vision. At Zak George Landscaping, we provide rock work removal services. Removing heavy boulders can be difficult work. If you don't have the proper equipment, it can lead to injury.
Choosing the Local Landscape Professional for Rock Work
Using rock mulch for your landscaping will create a dynamic and unique look. At Zak George Landscaping in Fort Collins, Colorado, our professional designers, and contractors have years of experience using rocks in landscaping projects. We can help transform your home or office's curb appeal with various landscaping services, including rock mulch laying. As a locally owned business, we're trusted by our neighbors to complete each job on time and within budget. We always strive to ensure you're entirely satisfied with our service. Contact us today to schedule your free landscaping estimate.