Skip to Content
Hardscape and Pavers in Fort Collins, CO
How Hardscaping and Pavers Can Enhance Your Outdoor Space
Zak George Landscaping specializes in hardscape and paver installation to enhance your outdoor living space. Hardscaping refers to the non-living elements in a landscape design, such as walkways, patios, retaining walls, and other outdoor structures. Pavers are a popular option for hardscape design, as they come in various materials, sizes, shapes, and colors that can complement the overall look of your landscape. A hardscape and paver design can help transform your outdoor space into a functional and visually appealing environment.
Retaining Walls – We install retaining walls to prevent soil erosion, manage water runoff, and add aesthetic value to your landscape.
Walkways – Our team of experts can create a custom walkway design using different materials, such as concrete pavers, natural stone, or brick pavers to connect different areas of your outdoor space.
Patios – We can help you create a beautiful and functional patio design for outdoor dining, entertaining, or relaxation, using materials that match your home's architecture and your style.
Fire Pits – Our fire pit installations can add warmth and ambiance to your outdoor gatherings, providing a cozy and inviting atmosphere.
Outdoor Kitchens – If you're a food enthusiast, we can design and install an outdoor kitchen to suit your needs and preferences, making your outdoor cooking and dining experience more enjoyable.
Driveway Pavers – We can install driveway pavers that are durable and low maintenance, improving your home's curb appeal and increasing its value.
Sidewalk Pavers – Our team can also install sidewalk pavers that are slip-resistant and easy to maintain, ensuring the safety of your family and visitors while enhancing the overall look of your landscape.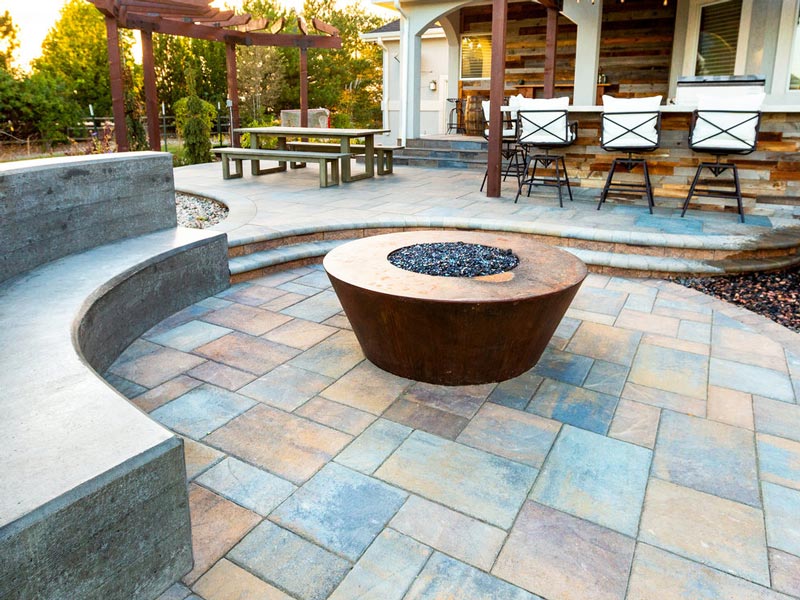 Why You Need Hardscape and Concrete Pavers
Hardscaping and pavers offer several benefits to homeowners. They help to define outdoor spaces, create a seamless transition between indoor and outdoor areas, and add value to your property. A hardscape design also helps to reduce erosion, manage water runoff, and protect your landscape from harsh weather conditions. Pavers are low maintenance and durable, making them an ideal option for high-traffic areas. With various materials and colors available, you can choose a design that complements your home's architecture and suits your style.
Contact Us for Colorado Hardscapes Landscaping
Zak George Landscaping is the best company for the job if you're looking to install a hardscape or paver design. With years of experience in the industry, we have the knowledge and expertise to handle any project, big or small. Our professionals will work with you to create a custom design that meets your needs and budget. Contact us today to schedule a consultation for installing pavers or any other hardscape services in Fort Collins, CO.
Contact Us Today for a Landscaping Estimate