Skip to Content
Outdoor Kitchens and Fire Pits in the Fort Collins Area
Enhance Your Living Space with an Outdoor Kitchen
Are you ready to enjoy the spring and summer months in the comfort of your own home? With an amazing outdoor kitchen from Zak George Landscaping in Fort Collins, CO, you can add a new dimension to your living space.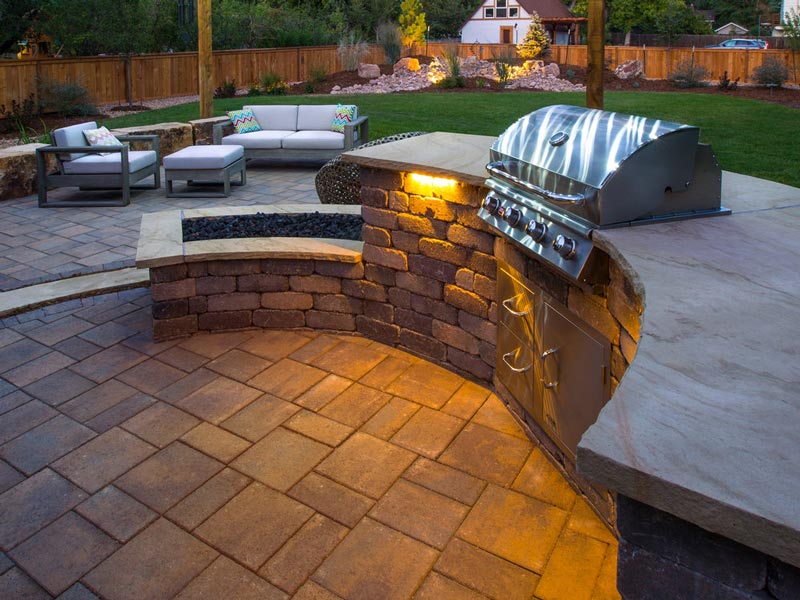 Our Outdoor Services
Here are some of the Outdoor services we provide:
Outdoor Kitchens
BBQ grills
Pizza Ovens
Gas or Log Firepits
Gas or Log Fireplaces
Ovens and Stoves
Mini Refrigerators
Common Outdoor Kitchen Elements
While an outdoor kitchen may not have all the bells and whistles as its indoor counterpart, you would be surprised by how many modern conveniences can be installed in your backyard. Appliances like refrigerators, dishwashers, ovens, and stoves are common components of outdoor kitchen design schemes, making it easy for you to cook and entertain without ever stepping back inside your home. Other common outdoor kitchen elements include shelving, cabinets, sinks, seating walls, bars or countertops, fireplaces or fire pits, and even light fixtures. Our experienced design team at Zak George Landscaping can help you choose which accouterments to add to your design and plan the best layout for your needs.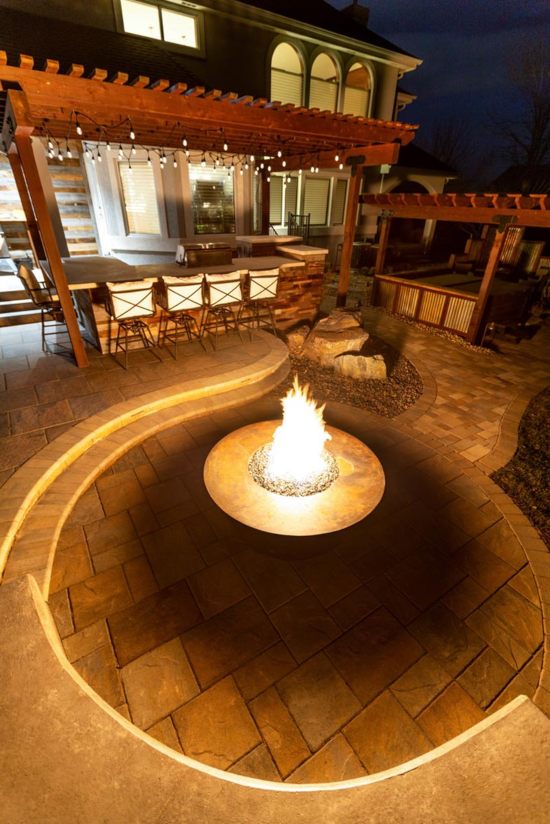 Outdoor Kitchen Building Materials
Outdoor kitchens must weather the elements, and the materials used in construction should be sturdy enough to stand the test of time. Stone, pavers, and granite are durable, attractive options for your outdoor living space, while stainless steel appliances will add a sleek, modern touch. Don't hesitate to reach out for more information on our variety of finishes.
How to Maintain Your Luxury Outdoor Kitchen
With proper maintenance, your outdoor kitchen can last for years to come. While your structure is crafted from durable materials, your outdoor kitchen will still require some simple TLC. Use a scrubbing brush, water, and mild soap to keep your space sparkling. Any stone fixtures should be power washed once a year to maintain their aesthetic integrity.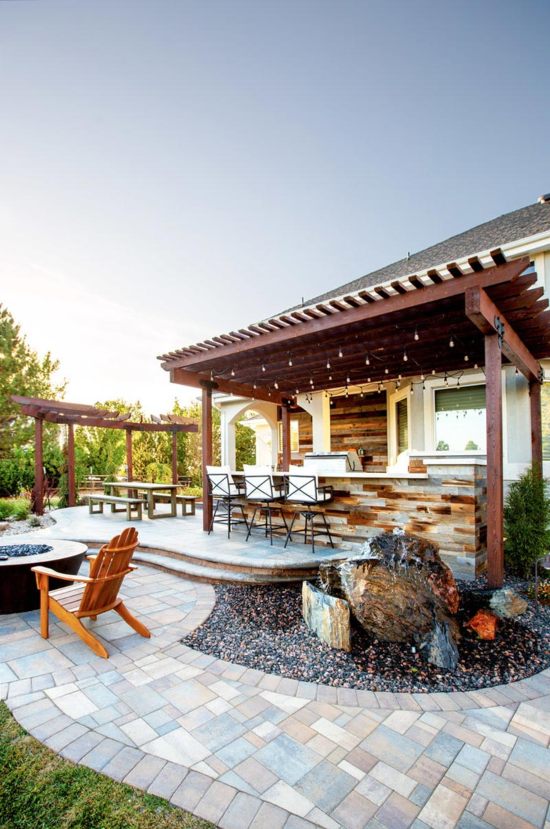 How We Plan Your Custom Outdoor Kitchen
Your outdoor kitchen from Zak George Landscaping will be customized according to your exact specifications. Whether you desire a modern outdoor kitchen or something a bit more traditional, we can create the space of your dreams. Your process will begin with a consultation and estimate, where you can discuss your preferences and ideas. We'll present a detailed plan that you can sign off on before we begin remodeling. You'll be kept in the loop throughout the entire process, so we can ensure you are completely satisfied with your outdoor kitchen.
Why Choose Zak George Landscaping
Zak George Landscaping is committed to creating beautiful outdoor spaces for our customers. We conduct our business with integrity, creativity, and dedication that truly set us apart – and the stunning results of our work doesn't hurt, either. Check out our landscaping portfolio to see our amazing projects for yourself.
Contact Us
Transform your backyard into a private oasis with a luxury outdoor kitchen from Zak George Landscaping in Fort Collins, CO. For more information on our landscaping services or to request an estimate, call (970) 221-9228 or send us a message here.
Contact Us Today for a Landscaping Estimate