Skip to Content
Pergolas, Decks & Fence Installation in Fort Collins, CO
Everything You Need to Know About Pergolas, Decks, & Fences
When most people think about their home, the first thing that comes to mind is the inside. However, what about the outside? Your home's exterior can be just as important as the interior, and one of the best ways to improve it is by adding a deck. A well-designed and constructed deck will add value to your home and provide quality space to spend time with family and friends. With today's modern materials, your deck will require minimal upkeep, making it a valuable addition to your home.
If you're looking for a company to handle your pergola, deck, or fence installation in Fort Collins, look no further than Zak George Landscaping. We are the most trusted landscaping company in the area and we have a wide range of services to choose from. Contact us today and we would be more than happy to go over your options with you and help you choose the perfect addition to your home.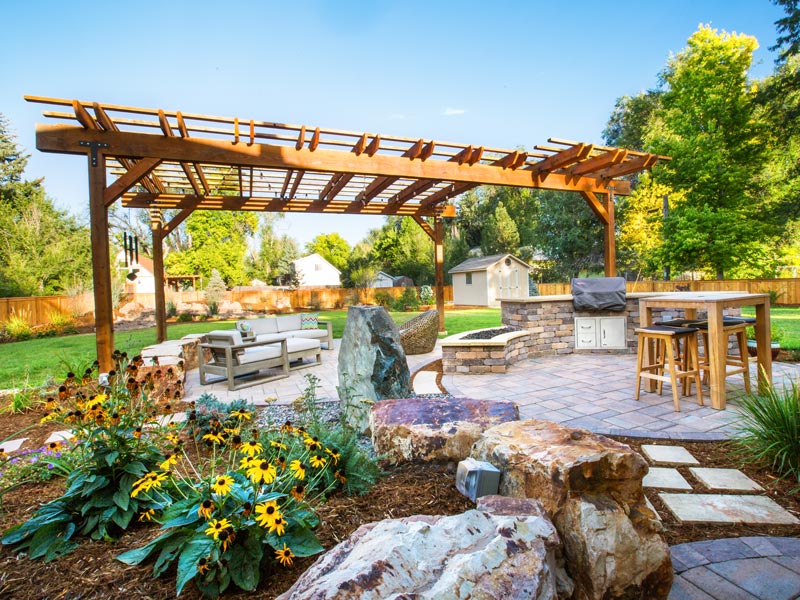 Zak George Landscaping Services
At Zak George Landscaping, we offer a variety of services to help you create the perfect outdoor living space. We can design and build custom pergolas, decks, and fences to suit your needs and budget. We also offer a wide range of landscape maintenance and repair services to keep your outdoor spaces looking their best. Whether you're looking to add a little bit of privacy to your yard, or you want to create a luxurious outdoor oasis, we can do it.
What Is a Pergola?
A pergola is a freestanding structure that provides support for climbing plants. It can also be used to create an outdoor living space or to simply add visual interest to your garden.
The Benefits of Renovating Pergolas, Decks, and Fences
There are many benefits to renovating your pergolas, decks, and fences. Not only will it add to the curb appeal of your home, but it can also increase its value. Here are some other benefits of renovating these features on your property:
Improved functionality: By renovating your pergolas, decks, and fences, you can improve their functionality and make them more user-friendly. For example, you may add a gate to your fence or deck to make it more accessible.
Increased safety: Renovating your pergolas, decks, and fences can also make them safer. For example, you may add rails to your deck to prevent people from falling off.
More aesthetic appeal: Renovating your pergolas, decks and fences can also make them more visually appealing. For example, you may paint your fence or deck to give it a new look.
Tips to Choose the Best Fence and Deck Company
When you have decided to install a fence or deck on your property, it's important that you choose the right company to do the job. There are many factors that you need to consider when choosing a fence and deck company. Here are some tips that can help you select the best one:
Do your research
The first thing that you need to do is to research the different companies that offer this service. It is also important that you check if the company is insured and licensed. This will protect you from any liability in case something goes wrong during the installation process.
Get quotes from different companies
Once you have shortlisted a few companies, it's time to get quotes. Make sure that you get the quote in writing so you can compare the prices easily. It is also important that you ask about the warranty and guarantees offered by the company. This will give you peace of mind in case something goes wrong after the installation.
Consider your budget
It is important that you set a budget before hiring a company. This will help you narrow down your options and choose a company that fits your budget.
Hire a professional company
When it comes to choosing a fence and deck company, you want to be sure that the job will be done right the first time. Professional companies have the experience and expertise to handle different projects.
Don't be afraid to negotiate
When it comes to prices, don't be afraid to negotiate. Some companies are willing to give you a better deal if you are willing to pay in cash.
The Different Types of Fences
There are many types of fences that you can choose from when it comes to protecting your home or business. Each type of fence has its own set of benefits and drawbacks that you'll need to consider before deciding.
Wooden fences are a popular choice for many homeowners because they're relatively inexpensive and easy to install. However, wooden fences require more maintenance than other types of fences and can be damaged by weather and insects.
Vinyl fences are another popular option because they're durable and require little maintenance. However, vinyl fences can be more expensive than other types of fences and may not be as attractive as some of the other options.
Wrought iron fences are a great choice if you're looking for a fence that's both durable and stylish. However, wrought iron fences can be expensive and require more maintenance than other types of fences.
Chain link fences are a popular choice for businesses and industrial properties because they're strong and secure. However, chain link fences may not be the best choice if you're looking for an attractive fence.
No matter what type of fence you choose, be sure to consider all of the benefits and drawbacks before making a decision. By taking the time to do your research, you'll be able to find the perfect fence for your home or business.
How Do You Build Your Decks and Fences?
Building decks and fences can be a fun and rewarding project, but it's important to plan to make sure that everything goes smoothly.
The first step is to choose the right materials. Decks and fences can be made from a variety of materials, including wood, vinyl, or metal. You'll need to consider the climate, the weight of people or animals who will be using the structure, and your budget before planning.
Once you've chosen your materials, it's time to start planning the layout of your deck or fence. Make sure to consider things like stairs, railings, and posts when designing your structure. If you're not confident in your carpentry skills, it's wise to hire a professional to help you with the construction.
Other Services We Provide
Deck design and installation
Redwood, composite decks, and railings
Deck renovations and reconstruction
Pergolas
Arbors
Custom-built wood
Metal and composite privacy screens
Fences (redwood, cedar, composite, vinyl, split rail, wrought iron)
Gazebos
Ranch corrals and horse areas
Spa enclosures
Decks, Fences, and Pergolas are Available in Fort Collins, CO
Ready to add some extra curb appeal and value to your home? Contact us today about our deck, fence, and pergola installation services. We would be happy to help you choose the perfect design and materials for your needs and budget. Let us take care of everything so you can relax and enjoy your new outdoor space.
FAQs About Pergolas, Decks, and Fences
How much do you charge per unit (sq. ft. of the deck or linear foot of fence)?
Decking and fencing prices vary significantly because of the many variables involved in the pricing. These include the type of material, design, elevation, and size of the deck or fence. Additionally, factors such as access to the site can also affect pricing. As a result, it is difficult to provide an accurate estimate without first assessing the project in question.
What is the difference between a pergola and a deck?
A pergola is a garden feature that consists of an open framework of wooden or metal posts supporting cross beams and rafters. A deck, on the other hand, is an elevated platform made of wood, concrete, or composite materials that are used for walking or sitting. Decks are typically attached to homes while pergolas are freestanding.
Is your company insured/bonded?
Zak George Landscaping is fully insured, carries worker's compensation insurance, and exceeds most general liability insurance requirements. We take your safety and protection seriously.
What are the codes or regulations for fencing around a pool in Colorado?
In Colorado, the requirements for fencing around a pool are relatively strict. The fence must be at least 4 feet high and have a self-closing, self-latching gate. Additionally, the fence cannot have any openings wider than 2 inches.
You can find more details about the codes and regulations here.
What is your warranty?
Zak George Landscaping offers the best warranty compared to our competitors. Our warranty guarantees our work to be free from defects in material or workmanship for four years after completion, including weather for the first year, not including natural disasters. ZGL cannot warranty wood products that may warp, split, or shrink over time. This is a natural characteristic of some woods that the contractor has no control over.
When will my project be scheduled?
We will work with you to choose a start date for your project. Once we have a start date, we will be able to provide you with a more accurate timeline for completion. Depending on the scope of the project, most projects are completed within 2-4 weeks.
View Our Work
The best way to appreciate the privacy of your own property is with a professionally constructed fence by Zak George Landscaping. Again, we can work within your budget to come up with a fence you can be proud of. We also will coordinate with Home Owner Associations to keep you in compliance. Like with decks, your options are extensive and we will send a professional to consult with you and provide a free estimate.
Contact Us Today for a Landscaping Estimate