Skip to Content
Outdoor Water Features in Fort Collins, CO
The Benefits and Beauty of Outdoor Water Features
If you've ever envisioned a natural pond or the calming sight and sound of running water in your yard, you're not alone. Outdoor water features can provide the perfect finishing touch to any landscape design, adding beauty and tranquility to your outdoor space in Fort Collins, CO. At Zak George Landscaping, we specialize in turning your vision into a smoothly functioning and low-maintenance water feature that can be a wonderful addition to your property.
Water Feature Services Provided by Zak George Landscaping
Zak George Landscaping provides a wide range of water feature services. Our team of professionals can help you design and install a custom water feature that complements your landscape and fits your budget. We provide the following water feature services:
Feature Design – We provide customized plans for water features that blend seamlessly into the landscape, considering factors like materials, location, and lighting.
New Construction & Renovation – We offer new construction and renovation services for water features to give new life to an existing feature or to create a brand-new one from scratch.
Waterfalls & Cascades – We specialize in designing and building waterfalls and cascades that range from natural to modern and artistic.
Ponds – We can create natural-looking ponds that blend seamlessly into the landscape and support various aquatic life.
Fountains – We can design and build a wide range of fountains that serve as a property's focal point, with options for different shapes and sizes.
Maintenance Tips and Help – We offer tips and guidance on keeping water features clean and maintained, and regular maintenance services.
Troubleshooting & Reconstruction – We provide diagnosis, repair, and reconstruction services for water features that are not performing as expected.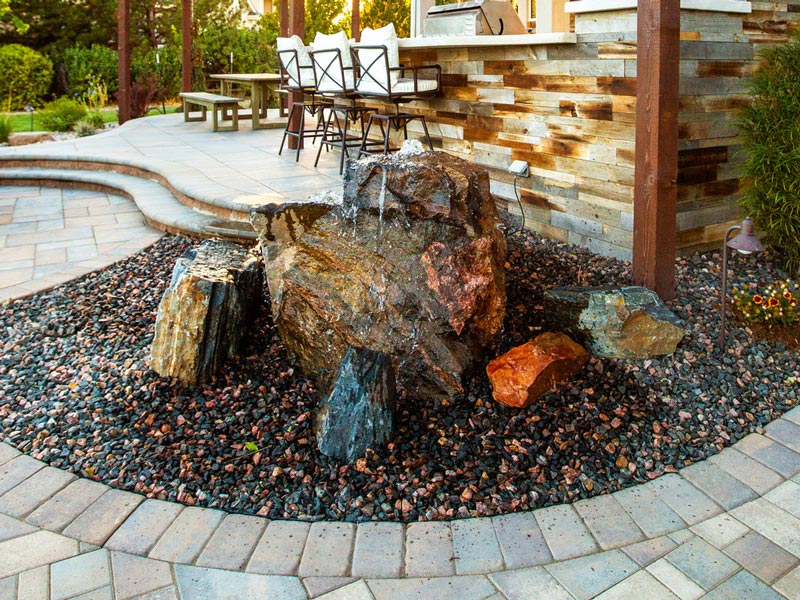 Our Natural Pond Services
If you're considering a natural pond, it's essential to understand the ecology of ponds and the four major biogeochemical cycles that are ongoing in a healthy pond. We can provide the education and information you need to keep your pond healthy and functioning correctly. Our team will be available to consult with you should any problems arise.
Benefits of Water Features in Colorado
In addition to their aesthetic appeal, water features offer numerous benefits to properties in Colorado, including:
Increased Property Value – A well-designed water feature can add value to your property and make it more attractive to potential buyers.
Improved Air Quality – Water features can help purify the air around your property by trapping pollutants and releasing fresh oxygen.
Relaxation and Stress Relief – The sound of running water can create a calming and peaceful atmosphere, providing a place to relax and de-stress.
Wildlife Habitat – Water features can create a habitat for various wildlife, such as birds, fish, and insects, providing an opportunity to observe and appreciate nature.
Water Conservation – Incorporating a water feature into your landscape can reduce water usage by collecting and reusing rainwater or greywater for irrigation.
Schedule a Consultation with Our Water Feature Experts
Our team of professionals has extensive knowledge and experience in creating outdoor water features, and we are committed to providing exceptional service and customer satisfaction. Contact us today to schedule an appointment and transform your outdoor space into a serene oasis.
Contact Us Today for a Landscaping Estimate